April 12, 2022
Posted by:

Maestro Legal

Categories: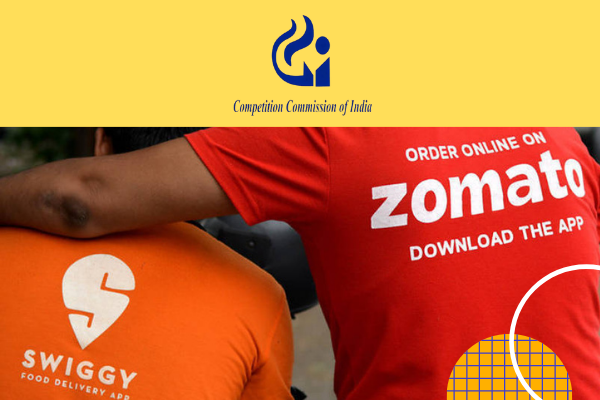 The Competition Commission of India (CCI) has launched a probe into the alleged Unfair Trade Practices, committed by the food aggregator giants Zomato and Swiggy. Filed under Section 19(1)(a) of the Competition Act, 2002; National Restaurant Association of India (NRAI), has alleged that the practices of Zomato Limited and Bundl Technologies Private Limited (Swiggy), are violative of Section 3(4) and 3(1) of the Act. Section 3(4) and 3(1) highlight the conditions that can cause Appreciable Adverse Effects on Competition (AAEC) in India. The Director General of the CCI shall be carrying out a thorough investigation as per Section 26(1) of the Act, which will then yield a detailed report in 60 days.
NRAI has contended that Zomato and Swiggy form part of the hyperlocal 'restaurant marketplace with delivery services' product market, since these aggregators are logistics-enabled restaurant marketplaces with search compare booking and delivery options; not forming part of the Vertically Integrated Food Chains (VIFC); which offer distinct self-delivery partners. In view of their monopoly in the market, and significantly high market shares, NRAI, in consonance with the de minimis doctrine has contended violations on various grounds.
Primarily, NRAI has contended that the food aggregators market has reached an abysmal level of consolidation wherein all emerging players are being integrated into the two dominating players, leaving no room for others to enter the hyperlocal restaurant marketplace and delivery system. Moreover, NRAI has also alleged that Zomato and Swiggy engage in enforcing vertical trade agreements and restraints on restaurant parties because of their compounding network effect. Not only that, it has also been contended that Swiggy and Zomato indulge in Food Bundling, Data Masking, and restricting restaurant parties from self-delivery (apart from a few exceptions, where VIFCs are allowed to use their own self-delivery partners, by adhering to some conditions and checks). Furthermore, NRAI has delineated that these entities have been playing a dual role, wherein they are operating cloud kitchens, that act as their own private brands, hence creating a conflict of interest, where they act both as an intermediary and as a participant, creating a preferential treatment mechanism and profiteering from the best of both worlds. Another allegation raised by NRAI is that both parties engage in unfair, one-sided contracts with Restaurants, through incentives, lower commissions, and exclusivity contracts that repel new entrants. Both parties also impose price parity clauses on restaurant parties, during their initial signage policy. These signage policies make it amply clear that subscribing restaurants have to ensure that their prices are at parity on all marketplaces where their menus are listed. Interestingly, it has been bought out by the NRAI, that the two dominant aggregators have been engaging in the practices of deep discounting, which have to be incurred by the restaurants to feature in their lists. This puts subscribing restaurants into a double-edged sword, wherein restaurants either have to incur losses to feature higher up on the lists, or incur a loss in commission, by not providing sufficient discounts.
In response to the delineations of NRAI, Zomato and Swiggy have stated that self-delivery services are usually discouraged, unless a party meets some parameters, since these food aggregators rely on the idea of efficient and trust-worthy delivery. Therefore, to retain customers and uphold their goodwill, subscribing restaurants have to meet certain parameters and maintain a desirable Order Requiring Support (ORS) before they can self-deliver. Moreover, reliance was placed on their unique and intricately built real-time delivery tracking system and feedback mechanism, which would be extremely difficult for every restaurant subscriber to replicate. In response to food-bundling, both these entities have suggested that food-bundling is not an appreciable adverse effect since it is only done to ensure efficiency of the platform. Reverting to the dual-role that these companies have been allegedly playing, Zomato has argued that it had shut down its cloud-kitchen (Access Kitchen Program); while Swiggy has argued that cloud kitchens do not make it an entitled participant in the industry since they are treated at par with other subscribing restaurants, in a non-discriminatory manner.
The Competition Commission of India has found merit in the allegations raised by NRAI, especially with the issues pertaining to platform neutrality, and price parity. Such an investigation by CCI is essential to ensure a level playing field for emerging ventures in a globalised economy such as India. Especially when the country is in its initial stages of startup boom, it is essential for the government to ensure that no handful of dominant players control market variables and phenomena. Furthermore, in order to ensure that subscribing restaurants are not being subjected to arbitrary terms and that their interests are being met, along with the interests of the consumers, a detailed investigation into companies that corner more than 95% of the food delivery market, is essential.
Author is a second year law student at Army Institute of Law, Mohali current working as a Legal Intern at ML Summer Internship '22.